February 15, 1997..... Fundraiser for Mario Molina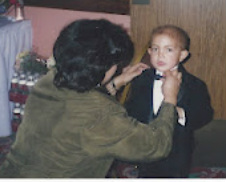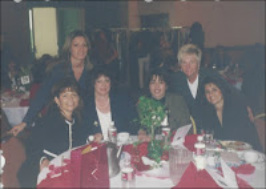 Sylvia, Me, Patty, & Lea (Sylvia's daughter)
I was invited to attend a fundraiser for Mario in Montebello, all proceeds were going to the Mario Molina Fund. Monies that would be used for future bone marrow drives in Mario's honor. I was overwhelmed and honored to be included in the lives of Sylvia, Sasha, and now Mario. All three families joined forces to fight the same cancer and find a bone marrow donor. This fundraiser was at Quiet Cannon in Montebello and was absolutely lovely. Attention to detail on each table setting, silent auctions were set, fashion catwalk was ready, and the mood was overall joyous.
I was born in Montebello and I love the city! It was beautiful to see people come together to help others from the same community. Sylvia worked out of the East LA division and Mario lived in Whittier. Every time I organized around their neighborhoods, it just always seemed to work out with no problem.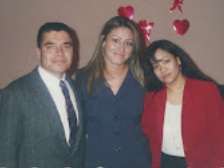 My life had changed overnight, my priorities had shifted and now my mission was to save as many lives as possible. You see, Sylvia's story inspired me to come forward and help her find a donor. As we became closer, I felt more compelled to fight alongside her even more. I continued to organize, contact media, and go into the community to educate people about becoming a member of the National Marrow Donors registry. Unfortunately, some people need to put a face to the disease to feel compassion, so we put pictures of Sylvia, Mario and Sasha on every flyer to appeal to the community. My case was different, I didn't need to have a direct connection to leukemia to step up to the plate. I came forward because I learned we could save a life by donating bone marrow so why wouldn't everyone do it?! People would say "oh, but it hurts!" and my response was always, "oh, so you have donated before is that why you say that?" Of course the answer was always "no." I would proceed to tell people that they get a local anesthesia and it's a small pain to go through to save another life. As I got more involved and met more people, all it did was give me more of a desire to educate and organize.

We received great news....Sasha found a marrow match around this time, she was getting ready for her upcoming bone marrow transplant! We were all ecstatic and awaiting details!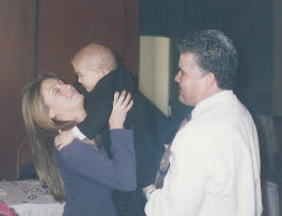 INSTANT LOVE!!!!
It is hard to explain, or put into words the love I developed for Mario. My mother said it best, "Mario must have been your son in your past life." She hit the nail on the head, because that is EXACTLY what I felt. An overwhelming attachment to a little boy that I had just met. I stayed in constant contact with the Caraveo, Smith, and Molina families as I would have other drives lined up hoping for more perspective donors. My heart sank each day we awaited to hear good news for either Sylvia or Mario...but nothing. So I continued the fight and now had two angels to look after.